The Future of smart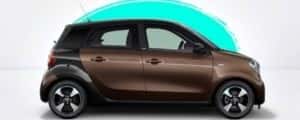 smart is well known for their compact vehicles that are not
only quick and convenient but also highly intelligent. Recently, smart
introduced an experience of the future at the International Motor Show
Frankfurt. The experience consisted of test drives, daily Future Talk, the
ability to create an individual trim part for the smart with an innovative
printing process. Most importantly, smart showcased a new smart experience
app.
The smart experience app is more than just a control
feature for a smart model. The app includes a range of functions and is
compatible for IOS and Android devices. It includes:
3D Model: Three-dimensional views of the smart electric drive have
touchpoints. If one of these points is selected on a smartphone or tablet
PC, then films, animations or explanations of the vehicle component or display in question open up for the user to explore.
Component Scanner: With the camera of a smartphone, vehicle components and
displays can be scanned directly from the smart electric drive, for example at a motor show or at a dealership. Once the objects have been
visually scanned, an explanation of the corresponding element follows.
Range Simulator: The individual range of the smart electric drive can be
calculated in this app function. The simulation considers whether the car is traveling at a low speed through the city or on country roads with a
higher average speed. Further parameters such as tire size, exterior
temperature, activation/deactivation of air conditioning and pre-entry
climate are also included.
Discover everything smart is capable of when you visit us at
Mercedes-Benz of Buffalo.